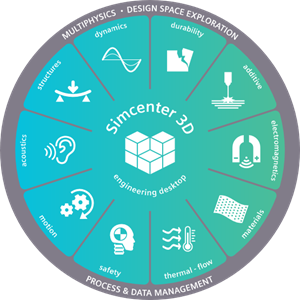 Simcenter 3D helps you conquer engineering challenges. As the most comprehensive, fully-integrated CAE solution, you can work across simulation domains from a common engineering desktop. The Simcenter 3D development team has had an extremely productive year, and we are pleased to share what's new in our latest release – Simcenter 3D 2022.1.
New enhancements in Simcenter 3D are aimed at helping you:

Your products are complex, and you need to accurately simulate and predict performance by capturing the right physics, geometry and operating environment. Simcenter 3D's multidiscipline integration helps you simulate real-world conditions more accurately, seamlessly transfer data and streamline multiphysics workflows. Here are some of the highlights from the 2022.1 release that help you model the complexity of your products better:
Enhancements for turbomachinery simulation
Simcenter 3D has become a leading tool for turbomachinery analysts because it seamlessly combines all of the physics and streamlines the multiphysics workflows required to simulate these complex machines. Turbomachinery-specific enhancements include:
Thermal Multiphysics
Include 3D CFD in portions of the Whole Engine Model
Add 3D CFD to portions of the model and support convection to axisymmetric meshes and connections to the 1D fluid network. This means you can connect 3D fluid simulation domains in a cyclic symmetric model defined with axisymmetric elements that are commonly used to model a turbomachine cross-section.
Rotor Dynamics
Account for the interstage junction between two stages of cyclic symmetry
When a rotating machine is made of different stages of cyclic symmetry, you must consider the interstage junction. Couple different cyclic fields at the interstage junction by adding different fundamental higher-order harmonics.
Durability
Time varying thermal fatigue
Understand durability over real operational cycles and reduce modeling time by reading temperatures and stresses/strains from FE results and ultimately perform temperature-dependent fatigue analysis.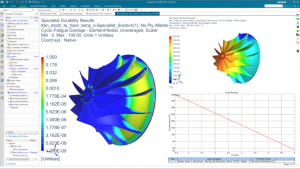 Multibody Dynamics
Spiral bevel gear support
Perform accurate, system-level NVH analysis on mechanisms with spiral bevel gears, such as automotive differentials.  This can help you better understand the noise these systems generate, so your customers can enjoy a quieter ride.
Structures
Drop test application
A new dedicated app that you can add onto Simcenter 3D to help simplify and streamline the entire drop test simulation workflow – from model setup, to solve, and results postprocessing.  Results templates and reports help engineers, who are not expert analysts, understand the results of their drop test simulations more easily. This allows them to quickly make the design modifications needed to ensure their devices can better withstand our clumsiness.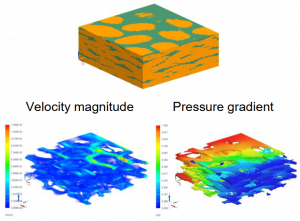 Materials Engineering
Homogenize permeability of porous structures
It's not feasible to perform a CFD analysis on a material with microscopic pores.  So instead, given a unit cell or microstructure model, you can homogenize the permeability accounting for the microstructure.  You can then use that permeability data in larger scale models to further predict flow at the global scale to enable multiphysics workflows.